news - rassegna stampa
24/09/2019 NICK CAVE
''Ghosteen'', il suo nuovo album in due parti, uscirà prima in digitale il 4 ottobre, poi in vinile e CD dall'8 novembre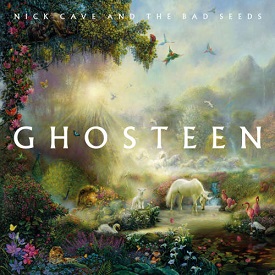 ''Ghosteen'', il nuovo album in due parti di Nick Cave and The Bad Seeds, uscirà in digitale su tutte le piattaforme venerdì 4 ottobre. L'album sarà disponibile in vinile e CD da venerdì 8 novembre. ''Ghosteen'' verrà presentato in anteprima su YouTube alle 23:00 di giovedì 3 ottobre. 'Le canzoni del primo album sono i bambini. Le canzoni del secondo album sono i genitori. ''Ghosteen'' è uno spirito migrante' (Nick Cave).

Track Listing
Part One
1 Spinning Song 4:44
2 Bright Horses 4.53
3 Waiting for You 3:55
4 Night Raid 5:08
5 Sun Forest 6:48
6 Galleon Ship 4:15
7 Ghosteen Speaks 4:03
8 Leviathan 4:48

Part Two
1 Ghosteen 12:11
2 Fireflies 3:23
3 Hollywood 14:13

L'album è stato registrato nel 2018 e inizio 2019 ai Woodshed a Malibu, Nightbird a Los Angeles, Retreat a Brighton e Candybomber a Berlino. E' stato mixato da Nick Cave, Warren Ellis, Lance Powell e Andrew Dominik al Conway di Los Angeles.

Nick Cave – voce, piano, sintetizzatori, seconde voci
Warren Ellis – sintetizzatori, loop, flauto, violino, piano, seconde voci
Thomas Wydler – batteria
Martyn Casey – basso
Jim Sclavunos – vibrafono, percussioni
George Vjestica – guitar

''Ghosteen'' è il diciassettesimo album in studio di Nick Cave and The Bad Seeds, segue ''Skeleton Tree'' del 2016, e uscirà su Ghosteen Ltd.