news - rassegna stampa
03/06/2020 TRAVIS
La storica band scozzese annuncia il nuovo album ''10 songs'' in uscita il 9 ottobre, il primo inedito è ''A ghost''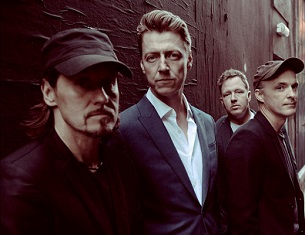 I leggendari TRAVIS sono tornati e pubblicano oggi il primo assaggio del loro toccante e carico di emozioni nono album in studio "10 SONGS", in uscita il 9 ottobre 2020 via BMG. "A Ghost" è accompagnato dal bellissimo video - realizzato durante il lock down - diretto e disegnato dal frontman Fran insieme a suo figlio Clay che conta 2.500 disegni realizzati nell'arco di un mese. Fran Healy, riguardo alla realizzazione del video, ha affermato: "The video started out as a mocked up picture of me and three ghosts playing the last chorus of the song in a deserted alleyway. Just when everything was ready to shoot, the world went into lockdown, so we had this great song with no way to make a video, so I decided to draw it. It worked out that it would take around 30 days, with 2,500 drawings. Most of the animation is rotoscoped, and one day I was watching a sequence back and when it got to the end, it flashed and went into live action. This was the moment I realised I could shoot the mock up picture of me playing with my band of ghosts in the alleyway. It was clear that filming the last 47 seconds would save me 10 days of drawing, I could recruit my 14 year old son Clay as the cameraman as he has a drone, and most importantly, we could film it socially distant. It was the most bizarre video shoot I have ever worked on, but it turned out great". Co-prodotto da Fran e Robin Bayton (Coldplay, Florence & The Machine) e registrato ai RAK Studios a cavallo tra il 2019 e il 2020, 10 SONGS è un album che racconta di come la vita arrivi all'amore e di come l'amore possa superare le avversità. È un disco maturo, ricco di sinergie e la maggior parte delle canzoni riflette a pieno un prezioso senso di mutua sintonia che solo una band che non ha mai cambiato line up può vantare. Nel disco ci sono anche ispirati camei, che comprendono, tra gli altri, i synth del nonno di Jason Lytle, la lap steel di Greg Leisz (Beck, Emmylou Harris, Bruce Springsteen) e le voci di Susanna Hoffs delle Bangles. Sono passati ben 25 anni da quando i componenti dei TRAVIS misero piede per la prima volta in una sala prove. In questo vasto arco di tempo hanno venduto milioni di album, sono stati i protagonisti del premiato documentario a loro dedicato "Almost Fashionable", e Fran ha ricevuto il consenso di artisti del calibro di Paul McCartney, Elton John e Graham Nash, scrittori la cui abilità nel comporre melodie senza tempo li hanno fatti diventare sempiterni. Oggi inizia un nuovo capitolo nella straordinaria carriera della band. 10 SONGS è un'opera che mostra, ancora una volta, che i TRAVIS sono una delle band con le più alte capacità di scrittura mai esportate dagli UK. Per concludere, Fran ha affermato sull'arte della scrittura: "There's a song on the record called 'Butterflies'. And that's really how I think about songwriting. These things are floating around. And you have to be very quiet, and be very quick, and be very respectful. You catch them, you look at them for a little while, and then you set them free again. And that's the whole point of songs. That's the point of songwriting".

"10 SONGS" TRACKLIST
1. Waving At The Window
2. The Only Thing (feat. Susanna Hoffs)
3. Valentine
4. Butterflies
5. A Million Hearts
6. A Ghost
7. All Fall Down
8. Kissing In The Wind
9. Nina's Song
10. No Love Lost

10 SONGS è disponibile in: standard CD, heavyweight vinyl plus Deluxe 2CD and Deluxe 2LP (red and blue vinyl) including 10 Demos. The band's official store features exclusive merch bundles, Cassette and highly limited edition signed TPs. Pre-Order 10 Songs https://astarteagency.us12.list-manage.com/track/click?u=3b9e2672184dbb7678ba36b45&id=020dacf8bc&e=16ce583bfb.