news - rassegna stampa
17/11/2017 MOTORHEAD
Il chitarrista della band Phil Campbell esordirà a gennaio con l'album ''The Age Of Absurdity''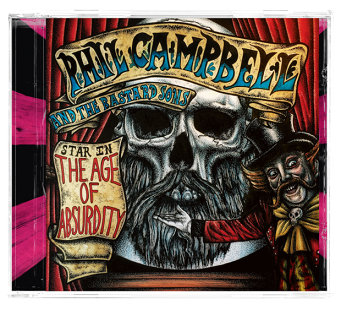 I PHIL CAMPBELL AND THE BASTARD SONS, guidati dallo storico chitarrista dei leggendari MOTÖRHEAD, hanno pubblicato il primo singolo dall'album di debutto, "The Age Of Absurdity". Il brano si chiama ''Ringleader'', e l'album può essere pre-ordinato in svariati formati (CD, CD + shopper e foto autografata, vinile black, white/red bi colored e clear vinyl) alla pagina http://nblast.de/PCATBSAgeOfAbsurdityNB. ''Ringleader'' è invece acquistabile in digitale o streaming alla pagina http://nblast.de/PCATBSRingleader. La band è attualmente in tour nel Regno Unito con i rocker australiani AIRBOURNE. "The Age Of Absurdity" è stato registrato ai Rockfield Studios e Longwave Studios in Galles. Della produzione e del mixaggio si è occupato Romesh Dodangoda, mentre la masterizzazione è avvenuta ai leggendari Abbey Road Studios a Londra. Il disco conterrà undici canzoni e una bonus track. La data di uscita è fissata il 26 gennaio 2018 su Nuclear Blast. ​ La copertina è stata realizzata da Matt Riste.

"The Age Of Absurdity" tracklist
1. Ringleader
2. Freak Show
3. Skin And Bones
4. Gypsy Kiss
5. Welcome To Hell
6. Dark Days
7. Dropping The Needle
8. Step Into The Fire
9. Get On Your Knees
10. High Rule
11. Into The Dark
12. Silver Machine (HAWKWIND cover feat. Dave Brock degli HAWKWIND), inclusa solo nella prima stampa del CD

Phil Campbell è stato il chitarrista dei MOTÖRHEAD per trentadue anni. Ha suonato in tutto il mondo, vendendo milioni di album e partecipando come headliner ai festival più importanti. Phil ha un'enorme passione per la musica ed è questa passione che l'ha spinto a fondare i PHIL CAMPBELL AND THE BASTARD SONS. La band è un qualcosa di unico e vede i tre figli di Phil a batterista, basso e chitarra. Il cantante è Neil Starr.